Quality Interior Painting Services
Transform Your Home with our Quality Interior Painting Service.
Home
Interior Painting

Services

Of all our contracting services, interior painting is hands down where we shine. We started with interior residential painting in Annapolis decades ago and this is still our most contracted service today.  With great pleasure we continue to serve repeat customers and their referrals in the area all these years later.

Our team is highly skilled with providing an excellent final product and we will not rest until you are satisfied, and will come back until you are. We have dozens of testimonials and references to support our belief that we are the best painters in Annapolis. We believe quality, not quantity, is what grows the best foundation for a strong, healthy business.
8 Reasons to Choose Us

for Your Next Interior Painting project
20 years experience, hundreds of customers, and dozens of references do not lie!
We only hire gentlemen who are extremely industrious and take pride in a very high quality of work.
We approach every job with the care and artistry of the last, recognizing that no two projects are alike.
We consult to help choose the right colors and design to ensure we meet expectations.
We only use the best paint around.
We only make suggestions on the basis of what you want or need, and will never overcharge or attempt to coerce you into making a decision that is not in your best interest.
Our prep work and finishing touches are second to none, an often underestimated skill because most people think it is just a matter of slapping some paint on the walls!
We are licensed, insured, lead certified, and take our trade very seriously.
We wish each of you could speak to our past customers, see our work and compare us to other contractors. We are certain you would choose us. Are others less expensive? Of course. From there the questions to ask are: Are the better? How much do you care about quality? Are they insured? What happens if they fall off a ladder in your home? Do they have the independent reviews we have?
We are confident our interior painting service is the best quality, most accountable, and most reasonably priced, but which also protects you the consumer, in the market. We are not interested in a 'race to the bottom' for pricing. Many fly-by-night providers can do that for you. If you want a quality product with the best customer service and 100% transparency, Chesapeake Painting is at least worth a free estimate for you. We can't control reviews in Angie's List, Google, Yelp and others so do your research and don't underestimate the importance of working with a company like ours.
A Sampling of Our Interior Projects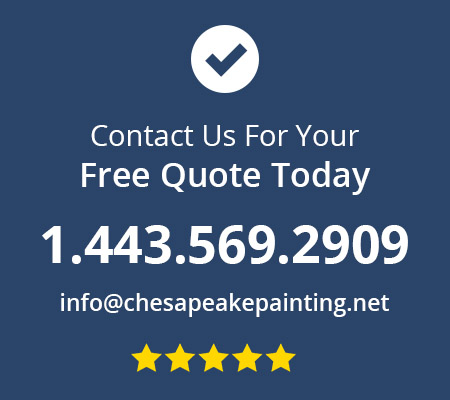 Let's Get Started!